Child abuse and Abandonment in the Nigeria
A sustainable end to world poverty as we know it, as well as the path to peace and security, requires that citizens in every country are empowered to make positive choices and provide for themselves and their families. Every child has the right to education irrespective of background and circumstances.
Achieving the 2030 UN sustainable development goal 4 (quality education), with the inclusion of all children especially those children rescued from neglect and street hawking, abandonment or child trafficking and other life-threatening condition is a corporate social responsibility for global community.
Human life has been sustained by past generations' ability to pass on the baton of life from the old to the young.  It is for this reason that a common saying goes "the future lies in the hands of the youth."  And it follows that one must pass through childhood before entering the period of youth.
The period of youth is largely determined by one's childhood upbringing.  As such, it is commonly agreed that to secure a future, it is important for the child to grow up in a safe, peaceful and healthy environment – For instance, international instruments such as the African Union Charter on the Rights of the Child and the United Nations Convention on the Rights of the Child aim at achieving a child-friendly environment for all children regardless of their race, religious, traditional and social status.
In Nigeria today, providing the child with a friendly environment for his/her all round development seems to be elusive. The widespread physical and psychological violence inflicted on children in this country in the name of cleansing the nation of witchcraft deserves serious attention.
THE CHILD "WITCH'' PHENOMENON
The atrocities inflicted on children in the name of cleansing families and the community of "witches" is strongly entrenched in Nigerian communities.  The belief that child witches and wizards exist cuts across all facets of society – the literate and illiterate, the wealthy and poor, the law enforcement agents, social welfare workers, law makers and most specifically the leaders of revivalist Pentecostal churches.
Such people believe that a mysterious, spiritual spell is given to a child through food and/or drink. In the wee hours, under this spell, the affected child is called out whereupon his soul will leave the body to be initiated in a gathering of witches and wizards.
After this initiation, the child possesses spiritual power to cause all manner of atrocity such as murder, madness, paralysis, road accident, inexplicable loss of pregnancy, blindness, deafness, incurable diseases like HIV/AIDS, hepatitis, cancer etc. All other misfortunes are perceived to be the handiwork of these child branded "witches" and "wizards".
This is a major concern of VAF– that religious leaders in most communities in Nigeria, particularly pastors, promote the belief in child "witches" so as to extract fees for "delivering" the children and cleansing communities by recommending that society get rid of the "witch child".
There have been numerous cases of groups of up to 6 children being incarcerated and chained up in churches for months at a time, whilst they undergo horrific exorcisms, which often involved drinking poisonous substances, torture and in some instances, death.
Parents of these children are frequently told to bring money needed to carry out such deliverances or exorcisms. Most do so willingly in the hope that they will be able to save their children from the evils of witchcraft.   This situation is well explained in the quote below.
"The more children a pastor declares witches, the more famous he gets and the more money he can make. The parents are asked for so much money than they can afford to pay and therefore may resort to selling their properties, lands or abandon the child in an awful and cruel manner'' – Sam Itauma (proprietor of a local children rehabilitation center in Akwa-Ibom, Nigeria).
Furthermore, in Akwa-Ibom of Nigeria where the belief in child "witches" is also deeply held, there is frequent disappearance of children especially those who are abandoned in the streets. For instance, an estimated 5000 children have been abandoned in this area since 2003.
"child witches."  An appalling case involved the gruesome murder of 14 children by having hot pokers forced into their bodies. Numerous other gross violations of the rights of children are taking place on daily basis due to the belief in the child witch phenomenon.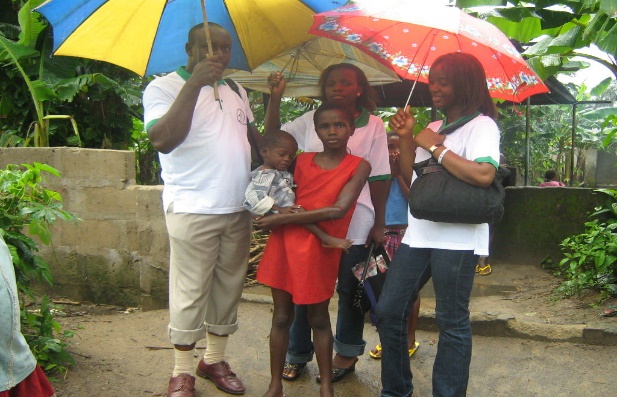 Many people say they have seen corpses of children in near-by rivers and forests. Many more of the missing children are never found. In addition, this region has also recently witnessed widespread killings of suspected
The staff of VAWEF Nigeria rescued baby Akpan at the street corner where he was abandoned to die
This was baby Akpan before he was rescued.
CHILD TRAFFICKING IN NIGERIA
The plight of Nigerian children including the ones accused of witchcraft are made worse by the thriving business of child trafficking. Perpetrators of this crime go to the villages especially the regions where child abuse and abandonment is prevalent to persuade parents to hand over their children to them promising to pay the parents certain amount every month.
These children are gathered together and transported to the big cities or to neighbouring countries where they are used as domestic servants, hawkers, factory or plantation labourers, child prostitutes etc. Almost in all cases these children are made to endure various forms of abuses. Some of them end up being killed for satanic rituals. The coastal areas in Nigeria have become a hotbed for child trafficking, with many boats travelling along the Gulf of Guinea using these areas as stopping off points.
Many of these children are shipped to Gabon and Equatorial Guinea to work on plantations. Presently, it is unclear how many of them end up in Europe and other parts of the world. It is hard to find people who are ready to speak out against the crime.
In 2015, UNICEF estimated that 8 million Nigerian children were vulnerable and at risk of being trafficked for different forms of exploitative labour including domestic work, prostitution, street hawking, begging etc.
In 2013, for example, a woman was intercepted by law enforcement agents in Nigeria with a cold-truck (usually used for transporting frozen foods) containing over 65 children (including her own daughter) from Niger Delta on their way to Lagos.
The children were between the ages of 8 and 16 years. Upon interrogation, she claimed that she was on her way to Lagos to place the children in domestic service for small fees.
This, according to her, was a seasonal migratory practice endorsed by the children and their families and she was well known and respected in the community for rendering them this service. The children were distressed that their journey and the hopes of earning a living were interrupted.
The community and the families of the children condemned the police loudly for dashing their hopes for a better living condition and arresting the woman whom they regarded as a heroine.
The police undertook several sensitization visits to the community to convince them of the dangers and criminality of sending out their young children as domestic helps. While it is clear that security agents were acting according to their perception, in the children's best interests, such interventions have been known to be in the detriment of the child, especially as the government does not offer the children and their families any practical or feasible alternative means of livelihood.
Again, on 14 March 2017, the police intercepted a busload of children along the Calabar – Itu Road, on their way to Cameroon. The children whose ages ranged from 9 to16 years (eight girls and seven boys), were told by the adults arranging their journey that some were going to work while others will go to school. Both the suspected traffickers and the children were later arrested by security agents for questioning. Due to lack of facilities for their care, the children were sent home to their parents and guardians (Imogbo, 2017, 1).
As we write, many more cases are taking place in Lagos, Kano, Abuja and Port Harcourt (Niger Delta) and other major cities of Nigeria. Police report indicates that the incidence of abandoned children, street children and those forced by their parents to become hawkers of petty items is increasing at an alarming rate.
BABY TRAFFICKING IN NIGERIA
According to a report from (Nigeria's) National Agency for The Prohibition of Trafficking in Person and Other Related Matters (NAPTIP), on 2 April 2018, a man was arrested in Owerri Imo State of Nigeria for trying to sale a 3 (Three) day old baby and for illegally harbouring young girls and making them pregnant, and selling their babies for prices ranging from €300,- to €800,-.
When security agents raided the place, 13 girls were discovered in a flat he had rented for this purpose. Among them, 8 were pregnant while 5 just had their babies but the babies were nowhere to be found, apparently shortly after birth, all the babies were sold except the 3-day old baby the man was still trying to sale.
When the non-pregnant girls were asked why they were still there, they responded that they were trying to get pregnant again. The man was later charged to court. Not long after, a similar home was discovered in Lagos where young girls make babies for sale to baby traffickers. In Europe and elsewhere, this practice is often perpetrated for the purpose of unlawful organ transplant.
In Nigeria organs are mostly, often removed unlawfully for the purpose of rituals associated with traditional religious beliefs, and the possibility that some intended victims for such rituals are abandoned children accused of witchcraft, street hawkers and new born babies is unfortunately overlooked by its absence from the definition of crime against children.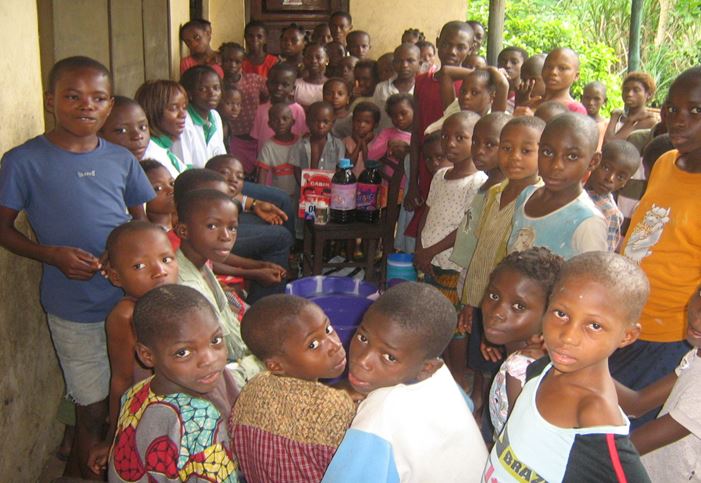 VAWEF's team Nigeria visiting shelter for abandoned children.
Based on the above analysis the lives of these children are in danger.  More worrisome is the fact that the very elements expected to provide the children with the necessary protection, warmth and love are the people in the forefront of perpetuating these vices.
Urgent steps need to be taken to reverse the role played by parents, the immediate family, religious and traditional leaders, and the community.
The extent of the problem is so overwhelming that even the current good initiatives by other NGOs in the region seem incapable of making a significant progress, particularly in halting these unacceptable traditional and religious beliefs.
The increasing number of cases of abuse perpetrated against children is alarming, and the perpetrator operate with such impunity, pointing to the need for concerted and sustained effort to quickly stamp out the crime. From this perspective, VAF deems it necessary to join hands with already on-going efforts to curb the menace.
You can share your thoughts with us or donate. Your contribution will go a long way to rescue and send a child to school.